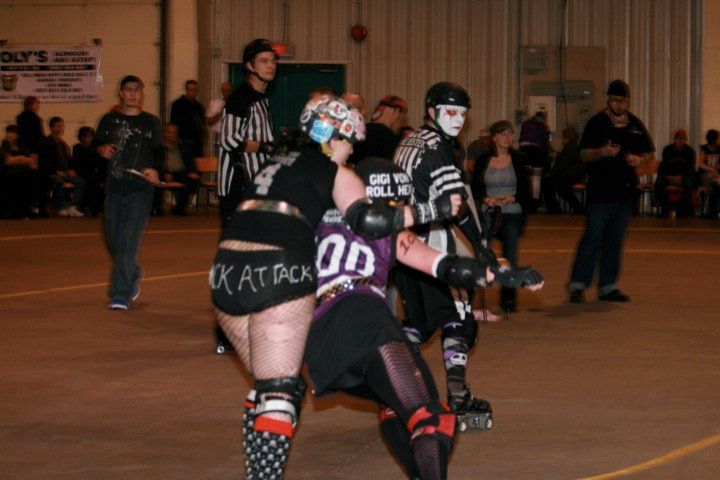 Is this statement true or false:
Roller derby is one of North America's youngest and fastest growing sports.  
Your answer likely depends on how old you are and, possibly, at what point your home town received access to cable television.
If you answered that roller derby is not new, it has been around forever, you are right!  And wrong.
Various games called roller derby have been around since the 1920s.  Originally a marathon, roller derby has taken on several forms, including the scripted and televised banked track roller sports of the 1970s and 80s.
However, FLAT TRACK roller derby, the kind being played in your town right now, is only about a decade old, with its governing body of rules having been created in 2004.  Today's roller derby is driven mainly by female players, is all athletics and all real.
The flat track, versus a banked track of the days of Little Iodine and Skinny Minnie, evolved as a cost saving device.  Flat track roller derby is for the free range rollergirl, who wants to skate whenever and wherever she can without having to set up a costly and technically complicated banked track.
If your answer was that the statement must be true because you have only just heard about this roller derby thing since your wife's best friend's cousin has just started playing with the local girls, you are also right! 
We seem to have reaching a cultural tipping point, where availability of roller derby leagues means everyone who wants to play, actually can play.  It lately that it is hard to talk to someone who doesn't know someone close or a friend of a friend who is playing derby.  Often touted as America's fastest growing sport  and arguably Canada's as well, roller derby has once again infiltrated the common consciousness.  Part of this has to do with the popularity of Drew Barrymore's movie Whip It, but mainly due is owed to the hard work of the players and fans who have brought a quality sport to this area. 
Edmonton has the notoriety of hosting Alberta's first roller derby league, the Oil City Derby Girls founded in 2005, and now has two leagues.  In the past six years, leagues have popped up in Calgary, Red Deer, Medicine Hat, Lethbridge, Camrose, Wetaskiwin, Bonnieville, Hinton, and Peace River to name a few.  That's amazing growth for a sport only ten years young.
If your answered, What is this roller derby thing?, you need to get out of here!
Seriously, go, and see for yourself.  You can go check out the action yourself in Edmonton on January 29th at the Oil City Grind House as the Tank'er Girls take on the Rated PG Rollergirls from Prince George, British Columbia.   Or, in Red Deer on February 12th, go Stark Raving Plaid at Westerner Park as Calgary's Thrashin' Lassies have a go at Red Deer's Belladonnas .  Sit track side in the suicide seats for a chance to see a roller derby up close.  Just keep your eye on the game, lest a flying rollergirl take you by surprise.
See you there.
Tags: Edmonton, flat track, history of roller derby, Home, Oil City Derby Girls, Red Deer Roller Derby Association, Roller Derby