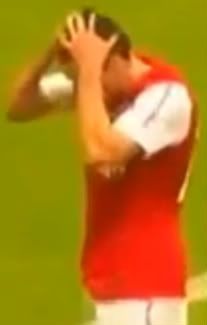 It's time to debut a new feature here on Kerrzy's Notebook: "The Wednesday Worsts" – a nod to the crummy side of sports!
Too often in sports it's the highlights that tend to hog most of the attention, but I'm here to give a bit of press to the cringe-worthy aspects of the games we all love! I'm talking about the horrid own goals, the cheap shots you have to watch twice and the losing streaks that are so long you hope they continue, just so they set some kind of record!
Lucky for us, there is a lot of that type of thing going on at the moment! Let's start in baseball, where the Seattle Mariners are chasing history:
The M's managed just one run in an 8-1 defeat at the hands of the NY Yankees on Tuesday night, giving them 17 straight losses coming into Wednesday's action! Just how bad is that streak? Well, the American League record is 21 straight losses, held by the 1988 Orioles, and the 1961 Phillies set the MLB mark with 26 in a row!
Can they do it? I hope so…if you're going to tank as hard as they already have, you may as well tank the hardest, right? Do you really want to go through all that pain just to be the "almost" worst team ever?
Let's go from losing streaks to a guy who absolutely lost it earlier this week: (AFTER THE JUMP – video of Brazilian soccer jump kick, plus a terrible own goal!) (more…)